On September 19 of 2017, my family and I were preparing for the second hurricane impact of the last two weeks. During that day I was doing some of my homework, making sure they were sent before the power went out. After that I helped my mother organize the house to create space for the pets and outdoor plants. As I gazed at the forest outside of my house, it seemed as if a hurricane wasn't approaching, the sky was clear, the air was fresh and the birds were still singing their beautiful melodies. It was almost as if nature itself didn't know what was about to hit them. None of us puerto ricans truly knew what we were about to witnessed with our own eyes.
On next day, September 20 of 2017, hurricane Maria hit our small island. In my home the lights went out at midnight, there were no signs of commotion yet except for a few gusts of winds rustling the trees. At this hour it seemed pointless to wait, so I closed my eyes and drifted off to empty dreams. Suddenly, I was woken by a loud crash at five in the morning, as I was switching the flashlight in my hand, my dog, Lady, gazed at me from the hallway standing next to the crate she had pushed by accident. In that moment I thanked God for the false alarm, at least we were safe from the chaos outside.
When I tried to fall asleep again, there were too many noises coming from every window, door and creeks in the house. Sometimes when the wind passed through the small gasps of the door, it sounded as if someone was whistling inside, though what scared me the most were the windows that would slightly swing up and down whenever a huge blow would hit us. Since we had not installed shutters, we were able to watch mother nature's fury upon us at six in the morning. In this precise hour Maria had officially touched land in Puerto Rico through the town of Yabucoa as category four hurricane.
[Source: Hurricane Maria by Natalia Marie]
During these natural phenomena there's nothing else to do except to be trap inside your own house or a shelter, waiting impatiently for it to pass. Our feelings swung from being worried to anxious and finally, afraid. Around four in the afternoon when Maria had left the area, we managed to leave our safe haven to visit a few family members that lived close by. Although there was damaged in our neighborhood, it could never be compared to the rest of island that was left in ruins. Back then I hadn't realize it, but I was going to be a part of the few who were lucky enough to still have a place to call home.
You should know that while I'm writing this story there are tears in my eyes, recollecting the memories of the times when we couldn't cry, scream nor forget our strength. In that time I was mostly worried about my grandparents, who we had lost communication with. Oh, how I longed to hear those two wonderful words: "We're okay.". As much as I wanted to check on them, we had to wait until the next day to travel to another town, a town we were afraid we couldn't cross as the result of the passing of the eye of the hurricane.
This slideshow requires JavaScript.
Though I'm an amateur photographer, these are some of the pictures I took along the road. My family and I made it all the way to my grandparents' home and we thanked the Lord for the millionth time because they were safe and sound. However Maria had taken some parts of their roof and whenever it rained, their house would flood easily. No buckets were big enough to catch every raindrop that fell like a waterfall through those missing roof tops. It was so bad that we had to make little holes in their cement walls to drain the water out.
We offered my grandparents to stay with us, unfortunately they rejected leaving their house even if it was just for a few days. Living in those conditions was a serious risk to their health and no matter what we said to them, they wouldn't move out. Although we installed the blue tarps giving by FEMA, they couldn't hold the rain from coming in. They were left without electricity for five months, but my family made sure they had food, water, medicine, batteries, whatever they needed, including their afternoon coffee.
As for my main family and I, we received helped from other family members and friends too, like, for example: Whenever there was no power or running water, my aunt would offer us her house to cook and take warm shower. If we didn't have enough food or bottled water, my parents would stand in long lines to give us with these essentials. Both of the companies my parents worked at provided us with packs of water and gas for our car. Plus, four weeks later, my university was one of the first to open it's doors and continue with the semester without falling behind.
When I compared my living conditions to others, I was lucky, I was too lucky. My power was restored three weeks after Maria and even if it wasn't steady, at some point of the week we had it. The cabinets were filled with can food, the water was clean, I had a bed to sleep on, but most importantly, I had a family to love. I had thanked God every day (and I still keep thanking him), because we didn't deserve to be this lucky. We didn't deserve to have these privileges that others couldn't afford nor reach.
Which brings me to another important topic I'd like to discuss. Though I had the necessary resources to survive, there were others that weren't as fortunate. You would think the local government or the U.S. government would provide them with the basic needs after a natural disaster, but it seemed as if volunteers and celebrities such as the artist Lin-Manuel Miranda, reporter David Begnaud, Chef José Andrés, and more were the only ones working for the benefit of the people and not themselves. I have a question for some of these politicians: Were your strategies to help those in need or to get enough votes to assure you a seat?
When you search through their Facebook, Twitter or Instagram, their pictures or videos were the ultimate propaganda click-bait. What kind of person smiles at a camera as they're visiting flooded houses? I'm not pointing out to anyone in specific, but there were many politicians, especially town mayors, who acted as if they were campaigning rather than doing charity work. On social media these people appeared handing their town citizens resources such as ice packs, bottled waters and more, which was a great initiative, but for some reason it only happened on the first two weeks and to specific areas where their friends lived. Several of them didn't announce they were coming to communities and secretly handed those emergency items to their co-workers, it seemed as if those packages had names written, despite being given by FEMA to distribute evenly.
At least President Donald Trump was transparent about his feelings when it came to helping his american citizens in Puerto Rico.
Dear Mr. Trump,
You are the worst. When you came to Puerto Rico, I thought your small hands were just a rumor, but you seem so insecure about them that you had to throw paper towels to the puerto ricans to make sure they wouldn't notice.
[Source: Donald Trump throws paper towels.. by Pan Jutubowski]
Instead of working on a plan to assure the relief funds were arriving to the right people, you were a little too busy golfing and especially doing what you're best at: Attacking people through Twitter.
Nevertheless, you were honest and determined to stop spending money on an island that's exclusively your concern when you rather build hotels (to file later under bankruptcy) and golf courses. God knows how many times you thanked him (if you did) from saving those courses.
We never asked FEMA to stay forever nor were we laying back waiting for the federals and local government to do the work. Hundreds of people would wake up in the morning sweating from the heat, washing themselves with a small bucket of cold water and eating small portions of food to go to their workplace and after having a rough day, they somehow would still manage to get the strength to do charity work. Whether it was at a center organizing packages or cooking food for their neighbors, puerto ricans were working under most extreme and inhuman conditions to provide to those in need. Perhaps the metropolitan area didn't acquire that much help after three months, since the city folks recovered quickly and had enough supermarkets (if they weren't empty) to get their supplies from.
However if you visited other parts of the island such as Loíza, Vieques, Culebra, Utuado, Comerío, Lajas, Arecibo, Caguas, Yabucoa, Orocovis, Jayuya, Morovis, Aguas Buenas and many more  they were devastated. To this day, a year after Maria, they still have blue tarps hanging from their rooftops. Some of the people didn't have a home to return to and had to move from the place they were born and raised to a country that doesn't want to treat them as equals even though by law we have the same rights. How heartless can you be to not realize the major crisis that was going on?
On the other hand, there were those who helped without hesitation. This is the moment I'd like to thank all the government officials (local and federal), celebrities, news medias, volunteers (from every part of the world), AEE works (despite all of your controversies, there are still good people there), policemen, and of course, the diáspora (name of the puerto ricans that live outside the island) that used their voice or whatever they had to encourage others to donate and volunteer to rescue those puerto ricans that were affected greatly.
There were countless of people who dedicated their efforts to help this little island. After years of being one of the first to respond whenever another country had suffered a natural disaster, it was blessing to receive and to acknowledge the fact the rest of the world cared for us. So thank you, thank you all very much for not only supplying us with food, medicine and water, but for giving us strength and hope.
Before ending this article, I would also like to give a message to all those puerto ricans who had to leave the island due to losing their homes, shops, a family member, etc. Don't feel bad, don't ever feel bad about leaving. You had your reasons and nobody should be asking you to justify them. Whether you lost your job or your school was destroyed, you deserve the chance for a better life and opportunities that we couldn't give you at the moment. If you ever decide to come back, you'll be welcome with open arms. If not, make us proud, because no matter where you are, you're always be a puertorriqueño o boricua de corazón.
[Source: Preciosa Marc Anthony by Sylvette Rivera]
To my friends who moved to the United States after Maria, I miss you dearly. Please never forget us and come and visit us whenever you can. I hope you work hard for your dreams and find happiness at your new home. May God bless you and your family.
And if whoever reads this wishes to help Puerto Rico, here's a list of all the charities that are doing amazing jobs at recovering what was lost. Though my hurricane experience were mainly inconveniences and I am blessed to say I've recovered thanks to my friends and family, there are still other families on the island that need our help. Thanks to you, Puerto Rico will once again be recognized as the Enchanted Island, or how we say it, la Isla del Encanto.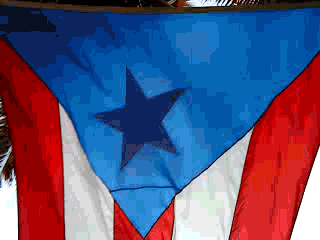 [Source: blueskittlesareyummy.tumblr.com via Giphy]