If you think this post is about virtual reality, reread that title again because today I'll be presenting to you guys a mini project about augmented reality.
According to the article "What is Augmented Reality?" written by Jesse Emspak, augmented reality is the result of using technology to superimpose information — sounds, images and text — on the world we see. In other words, it's using technology to enhance our real world with certain virtual elements and information, which is very different from virtual reality since it let's you interact in the real world while still being able to emerge yourself with virtual items.
In the 1990's this term was first defined by Tom Caudell while working for the company Boeing. By this time military aircraft and sports channels were already using this technology, but it wasn't until the mid 2000's when smartphones started coming up with apps such as Wikitude and Star Walk that allowed us to use it.
In 2013 Google spent billions of dollars on their smart glasses project called Google Glass, which basically worked as a hand-free cellphone. These special devices such as cellphones, tablets, AR glasses and more are beginning to be used in many fields like medicine, tourism, marketing and more. For example, when it comes to tourism and marketing, there are many museums around the world that are giving their guests tablets where they can interact with the paintings, structures and others.
Some of the latest augmented technology can even be found at one of my favorite places in the world: the Disney Parks.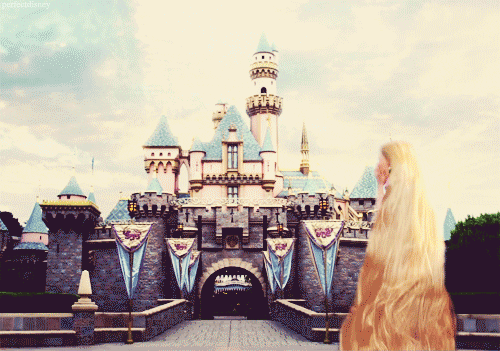 You might also be using augmented reality without noticing, apps like Snapchat, Pokemon Go and Google Translate demonstrate us the great potential this technology has in store for us.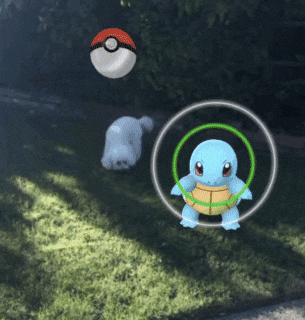 [Source: producthunt via Giphy]
If you want to learn more about this technology, you can visit this power point presentation on slideshare.net.
Disclaimer: This presentation was modified (slide #24) to meet with the work's requirements. The slides were filled with too much references, which disturbed the quality of the project.
Here's a list of some of the references I used:
Academic references:
Description: Research of the Walt Disney Company based on augmented reality and mixed reality and how they've incorporated it into their parks.
Description: Research on how augmented reality can help benefit the education system by giving students the opportunity to be more active, develop critical thinking, creativity and more.
Description: Brief history of how augmented reality came to exists from the 1960's, present and future. It also talks how it can be applied to different fields such as education.
Websites and blogs:
Description: History of the past, present and future of augmented reality and what fields could it be used for like sports, tourism and travel (mainly GPS apps).
Description: History of the devices that helped develop what we know as augmented reality such as SixthSense, Google Glass, Pokemon Go, etc.
Description: Brief history and devices such as smartphones and smart glasses that use augmented reality.
Video:
Description: Augmented Reality expert John Werner talks about augmented reality and it's application.
You can also check these out on my diigo profile where I listed all my resources about augmented reality using the hashtag #RA where you can find some of this information in English.
If you want to be updated with the latest information on augmented reality, you can follow these three twitter accounts run by experts on this field:
Soon I'll be working on a more detailed project that I'll be presenting in class and hopefully sharing with you guys every bit of information I find on this subject.
'Til next time!
[Featured Image Source: Kaiser Permanente Center for Total Health Content Refresh 19684 by Ted Eytan Licensed by CC]