For the last four years in a row I've been dressing up as a Disney character for Halloween at my university. This year I decided to go as one of my favorite princesses: Cinderella.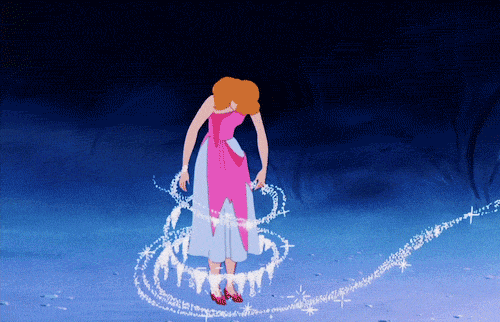 [Source: moviewhoree.tumblr.com via Giphy]
Since I was a child I've always admire Cinderella. Though she had a rough life and was treated poorly by her stepsisters and stepmother, she was kind to everyone she met, including her little mice friends. If you're not familiar with the story of Cinderella, you can always watch Disney's classic film Cinderella from 1950 or the new live action starring the magnificent Lily James. There are a lot of versions of this Grimm Brothers' tale, but my favorites are the ones Disney has created (and secretly Into the Woods, Cinderella Story and Another Cinderella Story too!).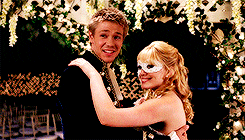 [Source: warnerbrosentertainment.tumblr.com via Giphy]
When I started coming up with costumes ideas, Cinderella was definitively a choice I had in mind. As I looked through different websites like Hot Topic, Disney Store and Party City, there were a lot of beautiful options to choose from, but they were really expensive. Since I'm not cosplayer, I wasn't looking for anything authentic nor unique, what I truly wanted was a costume that I could have fun with around campus without having to be concerned that I might ruin the valuable material.
This led my mom and I to go to our favorite affordable costume store, Walmart. When I went searching through the endless piles of costumes left from last year, I found the most beautiful and shimmery Cinderella dress I've ever seen.
Okay, okay, maybe not the most beautiful, because that title goes to Ella's real dress at the Disney parks, but it was special. Despite it being too wrinkled and the accessories not fitting well, I knew that with a bit of bibbidi-bobbidi-boo here and there, it would be perfect. The details on the dress were already incredible and I loved how the top's designed were the silhouettes of the mice (Jack and Gus), the birds, the pumpkin carriage and the glass slipper.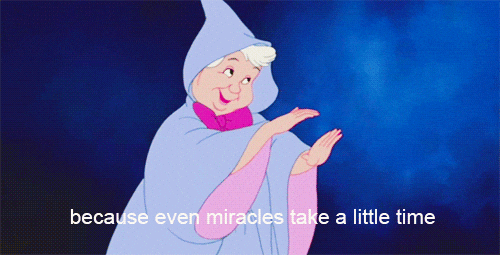 [Source: multitudeofgifs.tumblr.com via Giphy]
Before wearing it, I asked my dad to ironed it (believe me, I can't be trusted with home appliances) and of course, that took care of the wrinkle situation. After that, I went through my accessories and found a black leather choker with a small diamond that looked way better than the black ribbon that came with the costume. Although Cinderella wears small glass slippers, I ditched the heels and went with my glittery flats and allowed me to walk at campus.
When Halloween finally arrived, I became Cinderella and it felt like magic.
This slideshow requires JavaScript.
Although the fabric wasn't the best to wear under Caribbean weather, I had a lot of fun pretending to be a princess… which is what I do everyday, but today I could actually dress the part. Something that really surprised me were the amount of students who dressed up this year, which doesn't really happen a lot in my uni. I saw Snow White, Heathers (all three of them), Minnie Mouse, the Joker, witches, Hogwarts students, a bunny and a biker girl.
I'm very glad that university students don't feel ashamed of wanting to continue this holiday tradition. Halloween becomes even more special when you take your time to create a unique costume and like I proved on "My First Disneybound", you don't have to spend money to have the best one. With a bit of imagination and creativity, the possibilities are endless.
Before ending this article I'd like to thank one of my best friends, Coralis Rodriguez, for helping me with the photo shoot. If it weren't for your amazing ideas, I wouldn't have such amazing pictures. Coralis is an aspiring producer and currently studying to earn a bachelor degree in the Arts of Communications at Universidad del Sagrado Corazón. You can follow her at @cory_1993 on Instagram and check out her future projects.
'Til next time!